Bacon Wrapped Poussin
Method
Preheat the oven to 200°C.
Wipe the poussins thoroughly with paper towels, then stuff with the onions.
Wrap the breast of each poussin with 3 slices of bacon. Place breast-side up in a large roasting pan.
Toss the leeks with the oil, then add to the pan, tucking them in around the birds. Season with salt and pepper, then put in the oven to roast for 45 minutes-1 hour or until the poussins are cooked. To test, pierce them with the tip of a sharp knife. If the juices run clear, they're ready. If the bacon begins to darken too much, loosely cover the poussins with foil.
Remove the poussins from the pan and keep warm. Using a slotted spoon, transfer the leeks to a serving dish and keep warm. On a work surface, tilt the roasting pan to one side and skim away any fat. Place the roasting pan over 1 or 2 burners on the cooktop, add a little hot water to the pan, and turn on the heat to high. Bring to a boil, scraping up any crispy bits from the bottom of the pan, then simmer for a few minutes to thicken slightly. Pour into a gravy boat and serve with the poussins, leeks, and some creamy mashed potatoes, if desired.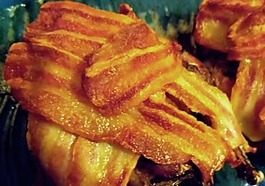 Ingredients
4 Canter Valley Poussins
2 onions, peeled and coarsely chopped
12 slices streaky bacon
6 leeks, trimmed, rinsed, and chopped into 5cm chunks
1 tbsp olive oil
sea salt and freshly ground black pepper